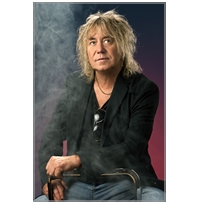 Alan Silson
At the age of 11 Alan met Chris Norman and later on Terry Uttley, 2 future members of Smokie. When Alan and Chris found out that they love music and could play very basic guitar they met up regularly and very initially started playing and singing Everly Brothers-, Kinks-, Hollies- and Beatles songs. At some point they even thought they could follow their big heroes The Everly Brothers and go out as a duet.

During his teenage years Alan also met Ron Kelly at a music shop in Bradford. The 3 teenagers started their first band together with a guy called Arthur Higgins on bass and they played at numerous school dances, pubs and clubs.

In 1968, the band's name was now "The Elizabethans" and Terry Uttley joined them on bass they turned professional. This line up stayed together for 7 years, they changed their name once more to "Kindness" and they surely gained much experience playing all over the country, also live radio broadcasts (Radio 1 Club). In 1971 they were signed up by RCA and then by Decca and under the name of "Kindness" they released 3 singles.

The band built up a big following and they were well respected for being 4 great musicians, 3 fantastic singers who all sang lead vocals at the time, their amazing close three part harmonies and Alan's unique guitar sound. For a certain period they performed as a backing band for Peter Noone who just left the Hermits.

In 1973 Ron Kelly decided to leave the band and their old friend Pete Spencer who had stood in for Ron a few times before was asked to join the band. The band which was to become "Smokie" was complete.

The band Mud introduced "Kindness" to the successful songwriter team Nicky Chinn & Mike Chapman. It worked out, they were signed up by Micky Most's RAK Records in London, the band's name was changed to "Smokey", later "Smokie" and in 1975 their first album "Pass it around" was released.

In the summer of 1975 they had their first hit record with "If you think you know how to love me". The Smokie hit machine continued to roll from then on, many hits like "I'll meet you at midnight", "Living next door to Alice", "Lay back in the arms of someone", "For a few dollars more", "Oh Carol" etc. followed in the next years. With these many hit records in the charts worldwide their albums sold millions of copies, too. Who hasn't got a copy of "Midnight Café", "Bright Lights & Back Alleys", "The Montreux Album" to name only a few? In 1977 and 1978 Smokie were the best selling band in Germany – whatever they touched turned into gold or platinum.

During the peak of their continuing success Alan worked with other artists like Donovan and Heavy Metal Kids, singing back vocals together with Chris and Terry.

People working in the studio with them at the time were absolutely amazed how fast and how perfect these 3 guys sang their harmony parts. It is a natural talent and it was a perfect match which made the sound of Smokie.

By the late 70s and early 80s Alan and the band were enjoying huge success, they performed live all over the world and sold out big arenas. In 1982 though, the band decided to stop touring and focus more on song writing and producing. Alan started writing together with Chris Wade, numerous tracks were later recorded by Smokie. In 1983 Alan, Chris and Terry were invited to Stockholm to sing back vocals on Agnetha Fältskog's (Abba) solo album, once again Mike Chapman remembered their unique harmony sound.

In summer 1985 Smokie finally got back together to play a charity show in their home town Bradford to help the victims of the Bradford City fire disaster. This one off concert resulted in going back on the road again, they toured Germany and Australia in 1985 and 1986. In summer of 1986 Chris Norman had a number one hit record and he decided to concentrate on his solo career. Chris toured for the last time with Smokie in September 1986, during this tour the band introduced Alan Barton as the new lead singer of Smokie.

The new band Smokie with Alan and Terry Uttley as the only original members played festivals in Scandinavia and due to the 70s revival in the early 90s Smokie became soon the headliner on many huge oldie shows where they performed to thousands of people.

During that time Smokie recorded numerous albums which reached chart positions in Scandinavia and Germany. The album "Boulevard of broken dreams" of which Alan wrote the title track was number one in the Scandinavian charts for 7 weeks. The band enjoyed their success but in March 1995 it all came to a horrific stop – a terrible car accident in which Alan Barton suffered severe head injuries and, unfortunately, never recovered. A few months later the band decided to carry on working so they auditioned a number of singers and Alan recommended Mike Craft. The newly formed band recorded their successful album "The world and elsewhere" on which Alan contributed 3 tracks. Shortly after that in 1996 Alan decided he needed a proper break which finally resulted in leaving the band for good in 1997. Later in 1998 and 1999 Alan performed live as a special guest alongside Suzi Quatro on various occasions and in 2000 he joined Mickey Finn's T-Rex as a lead guitarist and vocalist. They recorded an album "Renaissance" in Alan's own studio which he also produced, played numerous concerts throughout Europe and released their DVD "Back in Business". In 2004 Alan decided to leave T-Rex and to concentrate on song writing and planning to form his own band.

In the meantime, in 2003, Alan started working with his Smokie friend Pete Spencer. They decided to collaborate on an album – it turned out that their musical ideas and thoughts worked together really well. In between the song writing and production Alan planned having his own band – 2 coincidences helped him to make up his mind who might be the right ones. After many years he met Ron Kelly again in 2005 and another friend, Andy Whelan, called early 2006 saying that their current band "The B'Eagles" will split up at the end of May – so with Andy on guitar and Graham Kearns on bass and Barney Brands on keyboards / accordion the band was complete. The band started touring in June 2006, they played mainly in the Ukraine and Russia but are now performing live in Scandinavia, Poland & Germany and hopefully some more countries to follow.