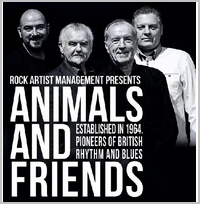 ANIMALS & FRIENDS (England)

Det engelske rockband THE ANIMALS blev dannet i 1962 og bestod af medlemmerne Eric Burton (sanger),Alan Price(Keyboards), Hilton Valentine (guitar), John Steel (trommer), og Chas Chandler (bas).

Siden 1992 har JOHN STEEL stået i spidsen for sit ANIMALS & FRIENDS, der optræder med alle de klassiske hits fra The Animals. Med sig på scenen har John Steel sin gamle Animals veteran MICKEY GALLAGHER, der i 1965 erstattede Alan Price ved keyboardet, og Danny Hardly og Scott Whitley.

ANIMALS & FRIENDS har de seneste 2 årtier turneret, og spillet et utal af Koncerter i England og Europa. Samtidig er der udgivet flere CD'er og DVD'er.

ANIMALS & FRIENDS er i sandhed ægte pionerer for Britisk Rock & Blues. House Of The Rising Sun, We Gotta Get Out Of This Place, It's My Life, Bring It On Home To Me, Don't Let Me Be Misunderstood, I'm Crying, Baby Let Me Take You Home, Don't Bring Me Down, Inside Looking Out, Boom Boom, og mange andre.
September - oktober 2015
Med venlig Hilsen
TT Booking & Management - 7070 1077